More than 30 years of experience
We have been using the finest technologies and state-of-the-art machinery to create high-performance, long-lasting and efficient sound absorbing heat shields for thirty years.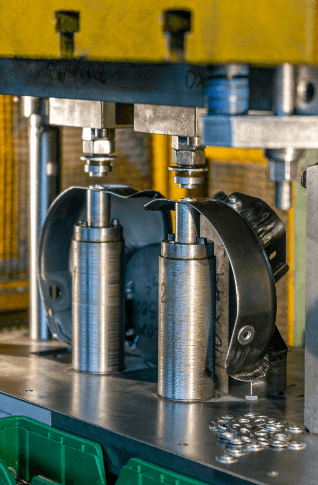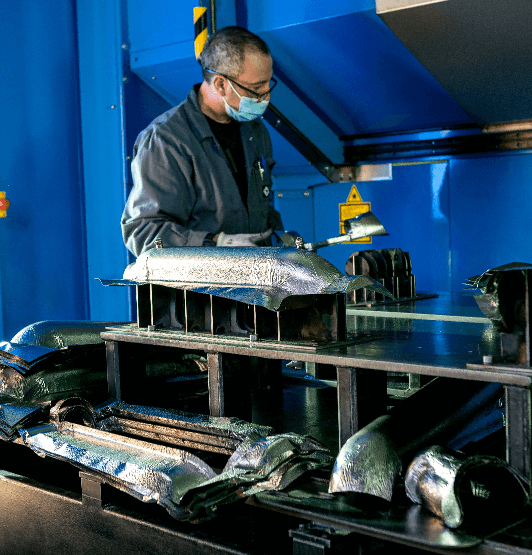 TESTED AND CONTROLLED QUALITY
We have a dedicated laboratory for thermal abatement testing and dimensional measurement using ultra-fast 3D laser scanners.
INNOVATION IS OUR STRENGTH
We produce aluminium and steel devices that are both solid and light at the same time, the result of continuous research and experimentation. This is the only way we can be sure of applying the latest and most functional technologies to fast, quality production.
CORE BUSINESS TECHNOLOGY: COLD MOULDING OF METAL ALLOYS
Depending on the project, our products are created from a sheet of metal that can be compressed and moulded into the required shape and size. This is commonly referred to as deep drawing and is carried out at room temperature, saving energy, costs and time while limiting the environmental impact of the production process.
From deformation to bending, the cold moulding of metal alloys allows a very high degree of customisation of the final product, ensuring maximum functionality within the target context.
Specific materials and treatments:
The demand for increasingly high-performance materials has allowed us to acquire important skills in the use of ultra-resistant metals and paints. The peculiarity of not changing color even in the presence of temperatures around 1000 °C makes them particularly attractive in the field of application on high-performance cars, allowing the perception of a heat shield to be shifted from a purely technical element to an aesthetic component with high added value.Such unique characteristics require the inclusion of processing steps that make the production process particularly delicate and complex.
HYBRID AND FULL ELECTRICS CARS
The use of heat shields is necessary not only for traditional engines but also for hybrid and electric units in which the primary function becomes to increase the safety of the vehicle in the event of a fire or excessively high temperatures in the battery area.
WANT TO KNOW MORE?
Contact us now and tell us about your project or ask for some advice.
ARE YOU READY TO WORK
WITH US

?

We can support your company in all stages of the production process of a heat shield.Our structure and technical team are at your disposal for:
Project development and engineering
Production in series in our workshop
Custom productions
Prototype production using resins
Craftsmanship also on individual parts
GOT A
PROJECT

IN MIND?

Our technical team is at your disposal for advice or a specialist opinion.